From British Columbia's Formation in 1858. Governor James Douglas, Judge Matthew Begbie and Chief of Police, Charles Brew, over saw the British Columbia Police.
The British Columbia Police, kept the peace, thru the Gold Rush days the Railway construction, rum runners and whiskey peddlers, even in the most remote boom towns, rarely was there more than one Constable. These fine officers of the law collected Taxes, issued licenses and had many other government responsibilities.
Some policed areas the size of England.
When BC joined Canada in 1871 they became British Columbia Provincial Police and were commonly referred to as Provincials.
Everywhere shy of our biggest cities, the people would know the Provincial by his name and he could be trusted and counted on.
After all these were sons, fathers, friends and relatives they were our very best British Columbians.
When uniforms came in the mid 1920's before that date they just wore plain cloths.
With a uniformed force even more pride was shown by the people.

In 1950 for reasons unconfirmed the BC Police were dismissed but encouraged to apply to the RCMP. Most did and as RCMP served BC citizens as usual. But the dismissal and how it was administered left a lasting hurt to these very proud Colonial turned Provincial constables.

Today after 62 years of dwindling numbers. The British Columbia Provincial Police Association is coming to an end. No more will we hear the stories of drafty lock-ups on a tied flat with out door privies or prisoners chopping firewood for the police station. No more news letters to read and imagine what policing was like in this Pioneer Province.

As I sat in on one of the final meetings what struck me was the humanity, the sense of brotherhood and love. Some deceased Constables represented by their Widows sons and daughters. Pride in a force they were all apart of.
Yes they were, and are British Columbia's Finest,
GOOD WORK, DONE WELL...

British Columbia Police 1858-1871
British Columbia Provincial Police 1871-1950
British Columbia Provincial Police Association 1962-2012

==================================================================



From the memoirs of Lance Potterton,
British Columbia Provincial Policeman.
"Northwest Assignment"

Old Man Winter dumped the usual amount of heavy snow on Stewart and the surrounding district, and the district on February the 15th. It had been snowing all day and it continued to snow throughout the night. About 7 on the evening of the 15th. I had a phone call from Mrs. Beaton of the Gorgia river beach camp. She told me that her had phoned down from the Gorgia River Mine at 1 o clock and said he would was leaving the mine right away and coming home to the beach camp. She said the he told her it was snowing at the mine, but he thought that he would be home about 5. She said he had not made it home yet, and she was now worried about it.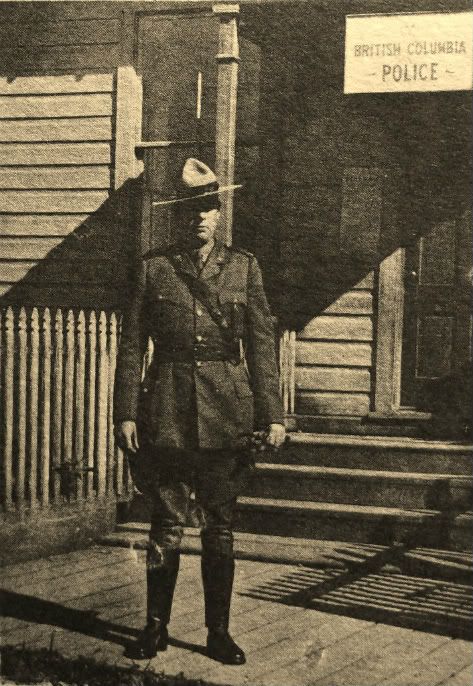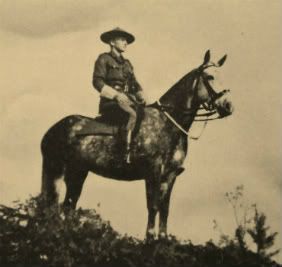 She said that she was unable to phone the mine as the wires must be down. I asked her to call me again at 9 and told her I would be ready to go if her husband had not made it home by then.
Promptly at nine she called and said "Harald has not arrived home and I am afraid. It is still snowing and keeps on piling up on the ground and everything on the ground has long since disappeared from sight."I said "Ernie Lewis and I will be leaving her right away. It is a terrible night out out on the canal and we may not get to the beach camp before daylight."

I had previously been in touch with Lewis and he was all gassed up and ready to go. As I expected , viability was zero on the canal and we had to proceed at a slow speed ahead. How Lewis did it I will never understand. I could not have done it, but then he was a boatman and earned his living that way. At 7 in the morning he nosed the boat the boat alongside a float at the at the mines beach camp. I jumped ashore into 4 feet of fresh snow. Lewis handed me a shovel, it was quite a while to find a ring to tie the boat up.

It still continued to snow and we could barely see the cabin in which the Beatons lived. We ploughed through the snow to the cabin. Mrs. Beaton had heard the motor of the boat and was expecting us.
She opened the door and handed us a broom to brush the snow from our clothing before entering the cabin. She had been up all night hoping that her husband would show up and now she was extremely worried . There was a pot of hot coffee on the kitchen range & she poured a cup for us. It was a large cabin, warm and comfortable. The baby was still sleeping in its crib and I wondered if all would eventually be well. This I doubted, but we could only hope for the best.

It was about about daylight when Ernie Ernie and I left the beach and the first thing we had to do was to locate the trail which led through the timber alongside the Georgia River. I had been over this trail several times in the summer months , so I said that I would break trail for a while. I knew the direction in which the trail went, but now there was a heavy blanket of snow. Once we got started we took turns breaking trail. It was the heaviest work that I had done for months. When we stopped for a coffee break at noon I judged we had covered less than two miles. Lewis said, "this is bloody awful-four hours and we have covered very little ground. We must get back to the beach before dark or we will be lost too." I realized that he was right, so I said , "I know that we are on the right trail. We can get going again now for about half an hour and the we will have to backtrack to the beach."

Ten minutes later we found a snowshoe with it's nose just above the snow. It had been stuck into the snow in an upright position and another two inches of snow would have buried it entirely. I examined the snowshoe and found that the ties had been broken and repaired so many times that at last it was impossible to repair it again and the snowshoe had become useless. This had cost him his life. We knew that he could not have gone very far on one snowshoe and a few minutes later we found him under a big windfall which he had crawled under and died from exposure. As we were debating the next move, two men who had been repairing the telephone line from the mine appeared and helped to take the body down to the beach. I went to the cabin alone. Mrs. Beaton was at the door and I am sure that she got the message before I gave it to her verbaly.
The ordeal of waiting for so long and now the bad news was just to much for her. She cried bitterly and I led her to a chair. I thought that the best thing I could do for her was to leave her alone for a short while until she recovered from the shock. A short time later we all made our way to the cabin and found the brave young woman making a meal for us.
I telephoned to the coroner at Stewart and gave him some of the details and he instructed me to take the remains to Stewart. I informed Mrs. Beaton about the instructions I had received and told her that the coroner would no doubt hold an inquiry into the death of her husband. She decided that she would go along with us.
Wellinton Beaton, father of the deceased and well known Vancouver businessman, arrived bat Stewart on one of the coastal steamships. I accompanied to the morgue and for a few minutes he viewed the remains of his son in a meditative manner, then spoke saying, "My son , you found yourself in a tight corner and unfortunately lacked both experience and know-how to find a way out of it." He brushed away a tear and quickly left the morgue. After the coroner's inquisition he took his daughter-in-law and the baby, together with the body of his son, to Vancouver B.C. _1926_

Lance Potterton had an area he was responsible to police.
This area was 42 thousand square kilometres.
To give you an idea you could Google Earth "Stewart BC" and have a look at the countryside.




Our Constables had large areas to patrol, some as large as England.
BCPP Constables had no uniforms until the mid 1920's.
Our Police were often referred to as Provincials.
Even before uniforms the towns folk knew who the police were. They moved about the Colony/Province on foot, dog sled, Train, horseback, sternwheeler, rowboat, automobile and then by plane.
Our Provincials had to uphold laws against Gambling, Numbers rackets "Lottery", Prohibition, and Rum running.
They had to collect taxes , issue licenses and even be health inspectors.
Unlike the RCMP mandate "To uphold the Statutes"
our Provincial officers were to "keep the Peace". These police men were made of good B.C. stock. Some died on the job and are today not officially remembered. There are no monuments for officers such as John Lawson in Wild horse creek 1867, Alex Kindness in Clinton 1912, Johnny Usher Kamloops 1879 and ten more. Each of these heroes have an interesting story, you can read about...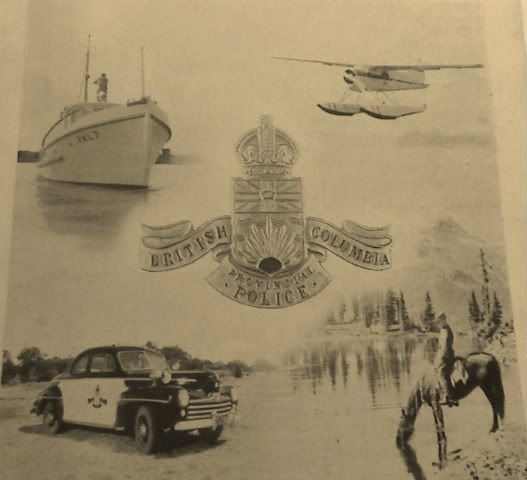 | | |
| --- | --- |
| | |
| | |
| --- | --- |
| | |
| | |
| --- | --- |
| | |

Tales of the British Columbia Provincial Police, By Cecil Clark
Northwest Assignment, By L.A.N. Potterton
Policing a Pioneer Province, By Lynne Stonier-Newman
Off Patrol, By B.C. Provincial Police Veteran's Association
B.C. Provincial Police Stories, VOL. 1,2,3, By Cecil Clark
The Lawman, Adventures of a Frontier Diplomat, By Lynne Stonier-Newman
Outlaws in British Columbia, By F. W. Lindsay
Back to
Historic people
& Places List
| | |
| --- | --- |
| HOME | |