You could summon one of these fine lake boats by one of two ways.
You would light two campfires on the beach at night
or you could wave a white flag on the beach by day & the boat would land it's bow.

The ultimate in customer service...

Imagine
sitting at your home made table and chair in your one room log cabin on the shores of Arrow or Okanagan Lake. Your small acreage looked so promising in the Brochure when you bought it sight unseen back in England. Yep a leisurely life of fruit ranching was definitely for you! While sitting there writing a letter home you hear a whistle sound and a smile comes over your face! The boats here with my Sears & Robucks order I hope? I can mail this letter also.
You run down to the beach and the sternwheeler has nosed up to the shore. You pause to take in this sight for here infront of you is civilization, white linen table cloths, fancy china & silver, steam heat
and bright white electric light! You go to the purser's office, he greets you by name, he hands you your mail, the deckhands are unloading the stumping powder and tell you the work horses you bought will be out next week. Bonus, your handed a coffee and a piece of fresh baked cherry pie!

Standing on the beach you sip your coffee and watch the lights fade from view, your alone again.

These boats were so much to the Pioneers and Settlers of not so-long ago...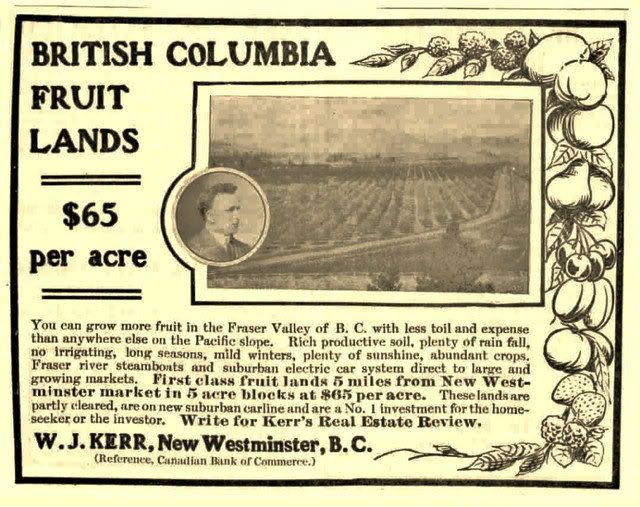 Let's have a look inside...
KEY TO PICTURES


1 Left to right, sternwheelers DUCHESS and MARION at Golden, 1890.


2 Sternwheeler NORTH STAR "lining up" on the Kootenai River.


3 Sidewheeler PERT above Golden.


4 Sternwheeler PTARMIGAN below Lake Windermere.


5 Sternwheeler ANNERLY on the Kootenai River.


6 Left to right: Houseboat ISABEL (ex Str. ISABELLA McCORMACK), and sternwheelers
KLAHOWYA and NOWITKA at Athalmer.


7 Sternwheeler GWENDOLINE below Fort Steele.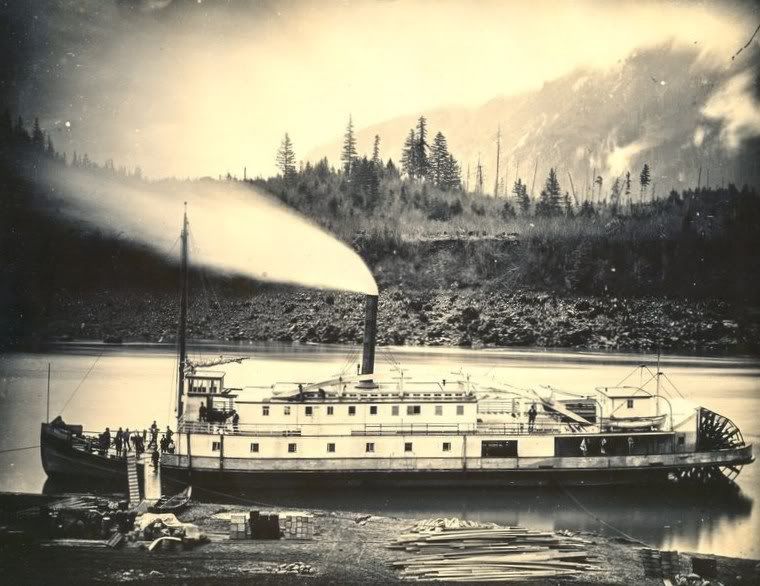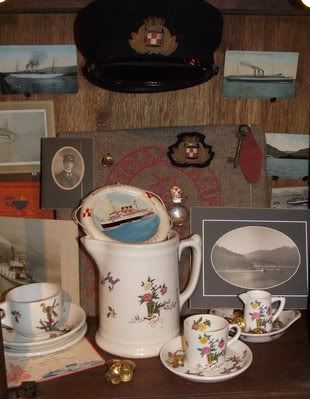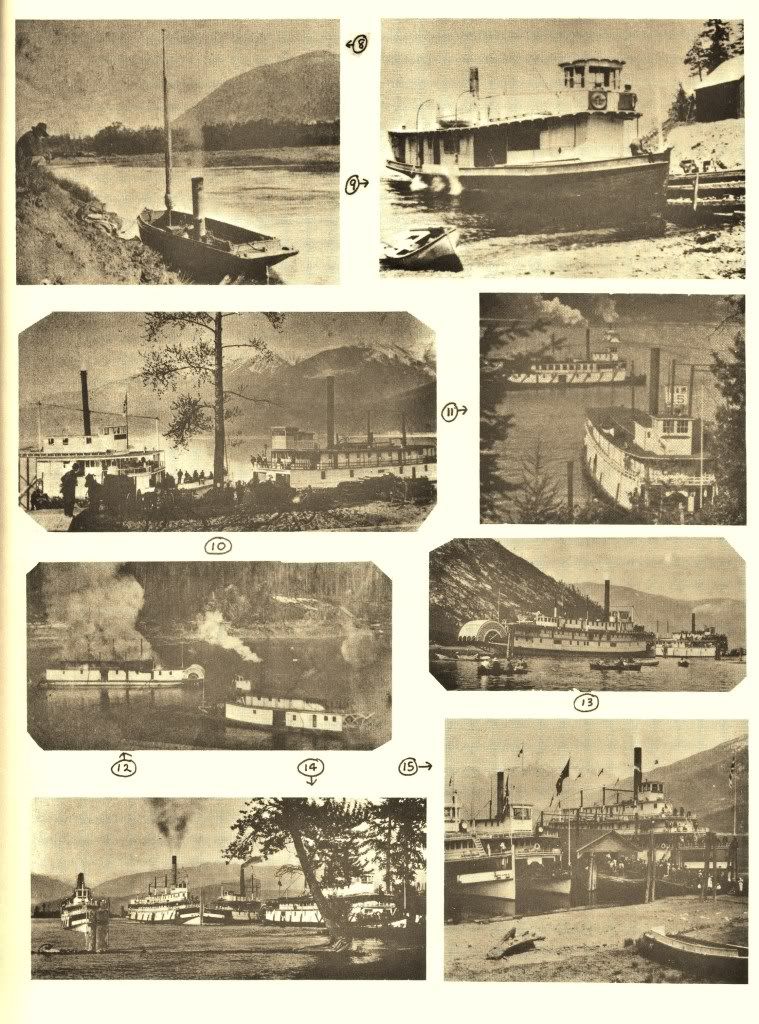 8 Steam launch MIDGE near Rykerts.
The natives would cut wood for this very early steamer. Payment made to sound the Whistle!


9 Sternwheeler GALENA at Bluebell mine landing.


10 Left to right: Sternwheelers STATE OF IDAHO and SPOKANE, 1893.


11 Bluebell mine landing. Sternwheeler NELSON tied up at landing, Sternwheeler
INTERNATIONAL steaming north, Sternwheeler MOYIE steaming across Kootenay Lake.


12 Kaslo waterfront, March 21, 1895. Left, Sternwheeler SPOKANE in flames, right Sternwheeler
CITY OF AINSWORTH.


13 Nelson shipyard, 1906, launching of the Sternwheeler KUSKANOOK. Sternwheeler MOYIE with
excursion party upstream.


14 High water at Procter causes landing problems. Left to right: Sternwheelers KOKANEE,
KUSKANOOK, KASLO, MOYI E.


15 Kaslo, B.C., July 1, 1913. Dominion day excursion steamers left to right: Sternwheelers
KOKANEE, MOYIE and NASOOKIN, the later on her inaugural Voyage.
| | |
| --- | --- |
| | |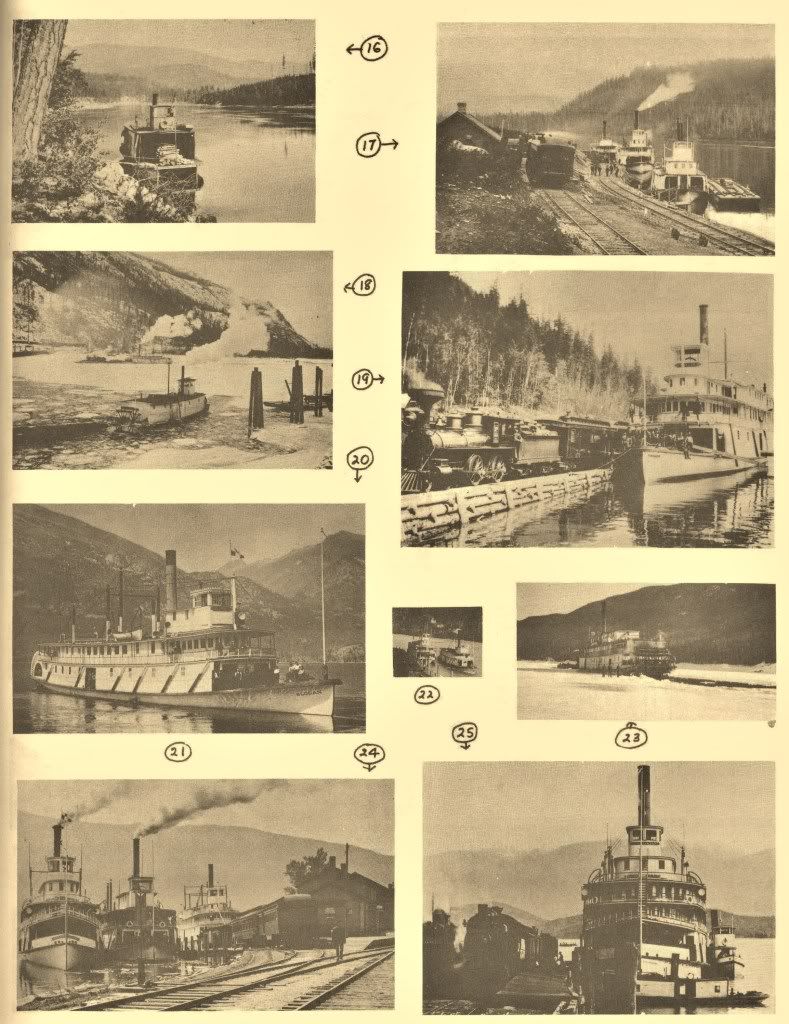 16 Sternwheeler catamaran DESPATCH on Lower Arrow Lake.


17 Left to right: Sternwheelers LYTTON, COLUMBIA and KOOTENAI at Robson, 1893.


18 Barging railroad cars through the ice between Robson and Robson West, 1901. Foreground:
Sternwheeler 1 LLECI LLEWAET. Background: Sternwheeler LYTTON with barge in tow.


19 Sternwheeler NAKUSP at Robson.


20 & 21 Sternwheeler SLOCAN on Slocan Lake.


22 Sternwheelers ROSSLAND and LYTTON at Robson.


23 Sternwheeler MINTO with ice barge breaking a channel in the ice.


24 Nakusp, left to right: Sternwheelers ROSSLAND, M INTO and KOOTENAY.


25 Arrowhead, left to right: Sternwheeler BONNINGTON, tug YALE; tug SMUGGLER in the foreground.
26 Kaslo, B.C. Kootenay Railway & Navigation Co. wharf. Left to right: Sternwheelers INTERNATIONAL, ALBERTA, ARGENTA.


27 Nelson shipyard; left to right: C.P.R. tugs YMI R, VALHALLA, HOSMER.

28 Nakusp, low water, 1915-16. Left to right: Sternwheelers KOOTENAY, ROSSLAND and
BONNINGTON.



29 Okanagan Landing, left to right: Sternwheelers ABERDEEN, YORK, KALEDEN and
SICAMOUS.



30 Nakusp, low water 1916-17. Sternwheeler ROSSLAND sinks at her moorings.


31 Procter, January 1931. The C.P.R. Kootenay Lake fleet retires. Left to right: Sternwheelers KUSKANOOK, NASOOKIN, tugs VALHALLA, GRANTHALL, HOSMER, Sternwheeler MOYIE.


32 C.P.R. tug SANDON on Slocan Lake.


33 Kelowna Regatta. Left to right: Sternwheelers OKANAGAN and ABERDEEN.


34 Sternwheeler SICAMOUS in retirement at Penticton.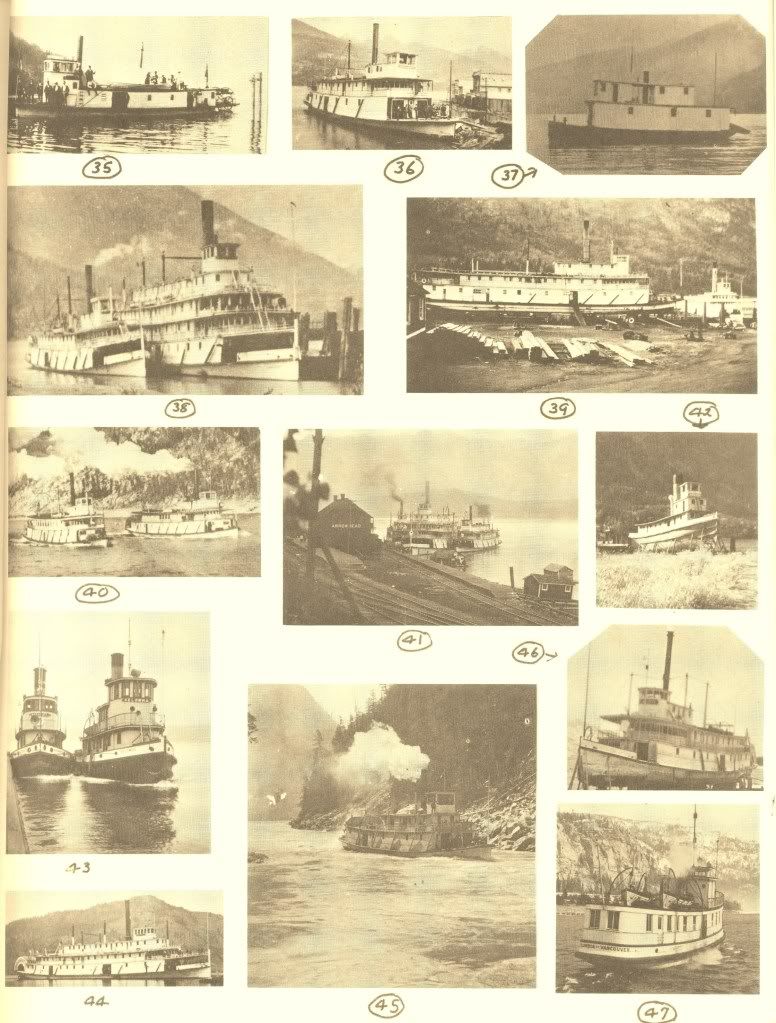 35 Sternwheeler MARION.


36 Sternwheeler NELSON at Kaslo waterfront during high water, 1894.


37 Sternwheeler WM HUNTER on Slocan Lake.


38 Kootenay Landing, left to right: Sternwheelers KOKANEE, NASOOKIN.


39 Nelson shipyard, 1940. Sternwheeler MOYIE on the ways; Sternwheeler NASOOKIN undergoing boiler wash.


40 West arm of Kootenay Lake; left to right: Sternwheelers INTERNATIONAL and MOYIE pace each other.


41 Arrowhead. Left to right: Sternwheelers ROSSLAND, BONNINGTON, MINTO. The ROSSLAND and the BONNINGTON are taking on the Arrow Lakes run for the summer season.


42 Nelson shipyard, 1963. Tug GRANTHALL awaits her fate.


43 Okanagan Landing. Left to right: C.P.R. tugs NARAMATA and KELOWNA.


44 Sternwheeler OKANAGAN.


45 Sternwheeler REVELSTOKE in swift water above Revelstoke.


46 Sternwheeler ALBERTA on the ways.


47 Lower Arrow Lake. C.P.R. tug COLUMBIA.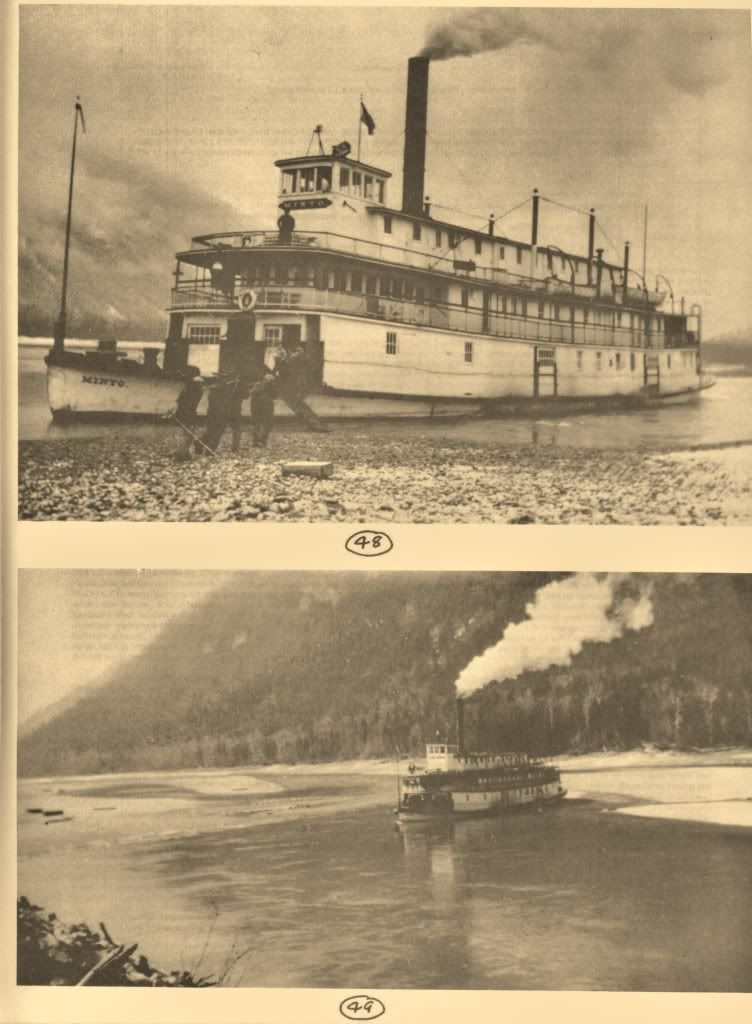 48 & 49 Sternwheeler MINTO lining up past Cottonwood Point in low water, 1949.

Some very good reading on BC's sternwheelers.

STERNWHEELERS SANDBARS AND SWITCHBACKS, by E.L. Affleck as told by Otto L. Estabrooks
| | |
| --- | --- |
| Back To Ghost Town List | |
| | |
| --- | --- |
| The Sternwheeler SICAMOUS and HOME. | |