| | |
| --- | --- |
|  In the Spring of 1906, an old man lay dying at the Sisters' hospital in Greenwood, BC. Asked if there was anyone who should be notified of his condition, he said that he had two daughters, both living in Vancouver, BC. Each daughter dutifully arrived to see the old man. According to the local newspapers, the father had some property and "the loving daughters exhibited a strong desire to have him make his will". | Famous Outlaws of the West. "Hotel of the era" |
Apparently, no will was executed and "his daughters' interest in his welfare suddenly cooled". The father died and the daughters returned to the coast without having made any arrangements for the disposal of the body.
          This unfortunate case of heartlessness could have been forgotten as just one more example of a dysfunctional family - had it not been who the old man was. Most people in the Boundary district of BC didn't know him at all. The majority who did know him knew him as a sometime prospector, and farm hand who had lived on a ranch outside Rock Creek, BC for the past 15 years. But his close friends knew him also as an American outlaw who had ridden with the likes of Jesse and Frank James and the Cole Younger gang, and served during the American Civil War with the infamous Captain William Quantrill and his Confederate raiders.
          John Jarrette was that "old man" who died April 20, 1906 in Greenwood amongst strangers - unloved and deserted by his own daughters. Unveiling the true life of Mr. Jarrette is a difficult task due in part to the fact that he most likely didn't want to be identified for much of his life because of the unsavory associations of his past. The search for the truth takes many twists and turns - his surname was spelled in many different ways in United States and Canadian government records (Jarrette, Jarrett, Jarett, Jaret, Jurette); his middle initial was recorded as "G" or "M"; dates of birth and death for relatives are all over the map; several children are attributed to him and his wife; the circumstances of his death are particularly hotly contended. So, the following is the best guess one can make as to the life of the old man living out his last days in the Sisters' hospital in Greenwood in 1906.
          John Marion Jarrette was the second son of Joshua Jarrette and Mary Elizabeth Dawson, both natives of Virginia, U.S.A., who married August 14, 1828 in Nelson County, Kentucky. Their first child, Ben, was born in 1830 or 1831 and died in 1847. John was born in Nelson County on January 8, 1833. His mother died in child-birth.
          United States Federal Census records for 1850 show John Jarrett, cabinet maker, age 17, living in Nelson County with his mother's family, the Dawsons, including her brother Charles and his wife Millie Duncan and their young children.
          Sometime during the decade of the 1850s, Jarrette moved from Kentucky to Missouri and came in contact with a family of well-to-do farmers by the name of Younger. Some of the fourteen children in the family were to become so infamous in the 1860s that some other members of the clan felt the need to change their family name to Junger. John Jarrette fell in love with Mary Josephine (Josie) Younger and they were married on May 8, 1860 in Cass County, Missouri. John was 27 years of age and Josie was 20. John's occupation was shown as carpenter in that year's U.S. Federal Census.
          Within a year, the United States entered a bloody civil war, essentially north versus south, with the state of Missouri on the border line. John Jarrette chose to fight with the Confederate forces of the south, enlisting with Missouri volunteers and fighting in the cavalry under the command of General Jo Shelby. He achieved the rank of Captain of Company E of the Jackson County Regiment.
"Edna Rosella Jarrett, Daughter"
| | |
| --- | --- |
| Frank James on left with John Jarrette | |
In early 1863, Jarrette resigned his position and joined up with a loosely organized force of Confederate rangers, referred to as 'bushwhackers', under the leadership of Captain William Quantrill. Quantrill's Raiders were responsible for some of the worst atrocities committed during the American Civil War. It is not documented to any degree of certainty whether Jarrette participated in these events - but likely he was involved in some. It was in this 'guerrilla' effort that Jarrette came in contact with the James brothers, Frank and the teenager Jesse. Reportedly, Jarrette was a commander of a unit which included the Jameses. Also fighting in Quantrill's Raiders were Jarrette's brothers-in-law, Cole and Jim Younger.
         
Jim Younger, Clell Miller, John Jarrette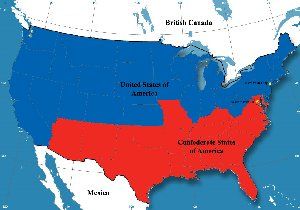 After the Civil War ended in 1865, Jarrette and the Younger brothers and James brothers stayed together to continue their fight against the Union by embarking on a bank robbing spree that involved at least five stick-ups (and shoot-outs) from 1866 to 1868. Jarrette, Cole Younger and Frank James were implicated in the February 1866 robbery of the Clay County (Missouri) Savings Association. Supposedly $60,000. was stolen in that one robbery - a not-so-small fortune for those times. Jarrette and the Youngers and the Jameses were involved in the 1868 robbery of the Nimrod Long & Co. bank in Russellville, Kentucky. A mere $12,000. was netted in that event. While the James-Younger gang continued to rob, and in some cases, kill throughout the American mid-west into the decade of the 1870s, John Jarrette seems to have drifted away from that violence and settled down for a quieter life with his family which now included two children. Perhaps to provide a 'smokescreen' for his pursuers (he was a wanted man), rumours were spread that Jarrette and his wife were killed in a house fire in 1869 in Missouri. But no local newspaper records have been found to verify that event.
          The 1870 United States Federal Census shows John Jarrette, farmer, age 36, and Josephine, age 29, along with daughter Mollie, age 8, and son Jeff, age 3, all living in Carroll, Louisiana. Mollie was born Marie Ethelwynd Jarrett in 1861 in Kentucky and was to use the given name Marion in her later years. Jeff was born Jeptha in 1867, probably in Missouri. He may have died very young as no further information has been found for him. Another child was born to John and Josie in 1875 - Edna Rosella Jarrett, in Henderson, Kentucky.
          By this time, John Jarrette may have been feeling increasing heat from his pursuers and decided that he should create some real distance from his infamous past. And from his family. The California Voter Registers for 1876 shows John Marion Jarrette, carpenter, born 1833 in Kentucky, living in Redwood City, San Mateo County.
Cole Younger
| | |
| --- | --- |
| | |
Many of Jarrette's outlaw compatriots suggested that he had headed out west to 'get lost' from his past. And get lost, he did. No further information on his whereabouts has been substantiated through the 1880s - with only vague rumours as to his death in the mountains of California while prospecting for gold. The trail went cold in 1891. But John Jarrette was still searching for gold - just in a different country where nobody knew his name.
          According to the 1901 Canadian Federal Census, ten years earlier, John M. Jarrett, born January 8, 1833 in the United States, of the Baptist faith, and single, emigrated from the United States, and was now living on a ranch just outside the small community of Rock Creek in southern BC, close to the international border. Rock Creek was the centre of a major gold rush in the 1860s and was still an active area for gold prospecting and mining at the turn of the century. Jarrette listed his occupation in 1901 as 'miner'. The owner of the ranch where Jarrette lived was William W. Meadows, an American who emigrated from the United States along with Jarrette in 1891. Meadows operated a general store and post office in Rock Creek for a number of years during the early 1900s. Jarrette was a very active gold prospector working several prospects including the Copper King claim along the west fork of the Kettle River, the War Eagle claim in the Phoenix area above Greenwood and the Robert E. Lee claim down by the border on Baker Creek, a tributary of Rock Creek. We have no indication that any of these explorations brought great wealth to Jarrette - but they kept him busy for 15 years. And at age 73, he was worn out and taken to the hospital in Greenwood - to die. The official cause of death was a combination of emphysema and senile tuberculosis.
          And that brings us back to the old man and the heartless daughters. Mollie Jarrette was 25 years of age and her sister Edna was 11 when they emigrated from the United States into BC in 1886 - a full five years prior to their father's emigration. Did they come by themselves? Where was their mother? Was she even alive? We have not been able to answer those questions. But we do know that Mollie Ethelwynd Jarrette married Hugh Forbes Keefer on December 20, 1890 in Vancouver, BC. Keefer was a very wealthy man and was credited with building Vancouver's first sewer system. He was managing director of the Granite Company at the time of this marriage - having divorced his first wife earlier in the year. One year later, the Canada Census shows Mollie using Marion as her given name, and little sister Edna living with the newlyweds.
          Mrs. Marion E. Keefer was listed as a witness on the certificate for the marriage of her sister Edna Rosella Jarrette to Robert Henry Leatherdale on May 8, 1893 in New Westminster, BC. The certificate shows Edna's birthplace as Henderson, Kentucky, her age as 18, and her parents as John M. Jarrette and Josephine Younger. Robert Leatherdale was shown as a livery stable proprietor for the Champion & White Co. in Vancouver.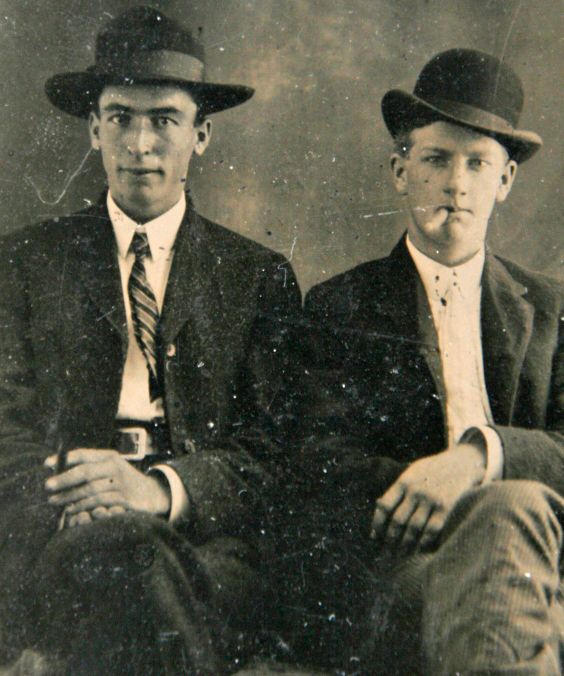 Jarrette and Bob Younger
What relationship the two daughters had with their father in those last 15 years of his life in Canada is not known. Had they been abandoned by their father sometime in the 1870s? - quite possibly. Had there been a reconciliation once the daughters were married and starting their own families - most certainly not if their last meeting with their father is any indicator. Despite repeated pleas from civic officials to the daughters and their husbands at the coast for some instructions as to the burial of John Jarrette's body, no word ever reached Greenwood. Eventually, the decision was made to bury him in a pauper's grave in Greenwood cemetery. No burial marker was made - although the exact location of Jarrette's plot is known.
Rest in peace, John Jarrette.

By Al Donnelly of Greenwood B.C.
| | |
| --- | --- |
| The new headstone will be placed shortly and when it is we will bring the photograph here. | |
We at BC Ghost Towns would like to Thank Al Donnelly for his well researched and generous contribution to our BC History!
WILLIAM CLARKE QUANTRILL, prior to receiving his commission as captain in the Confederate army, had been a school teacher. Some historians say he had also followed a career of gambling and stage coach robbing in Colorado.
Encyclopedias, history books and some other sources, such as the Kansas State Historical Society, tell us that Quantrill died of gunshot wounds in a Kentucky prison, shortly after his band was attacked by a troop of Kentucky militia.
Of course, even history books and encyclopedias could be mistaken. The following story which ran in the Victoria Colonist, was copied by Seattle papers and later carried by wire to every major paper in the United States, could be the true story. Some people believed it was, including Jim Butler, who knew Sharp before he was killed.
This is the story which appeared in the Colonist under dateline August 9th, 1907:



Guerilla Chieftain's Home at Quatsino

"Bill" Quantrill, leader of Quantrill's guerillas in the American Civil war 1861-66 who, according to history, died of wounds in a Kentucky hospital after his raiders were cut up, is alive on the northwest coast of Vancouver Island under the name of John Sharp. This is a statement made by people who should be in a position to know. Among them is J. E. Duffy, a prominent timberman who recently became interested in timber limits at Quatsino. He met the so-called 'John Sharp' and recognized him at once as Quantrill. Duffy was a member of a troop of cavalry which cut up Quantrill's force and he had no difficulty in recognizing the man.
"Sharp, or more properly, Quantrill, admitted to Duffy that he was correct in his recognition. Quantrill, who is now over seventy years old, is grey but still active and wiry.
"At Quatsino he was colled `old John Sharp', a grey-headed, grey-bearded, wiry old man, who had obviously been a large, strong man in his younger days. He lived in a cabin with the forest about it at Coal Harbour and always had a drink for the weary traveller about to start over the trail to Hardy Bay or dragging in over the eleven-mile trail.
"This summer J. E. Duffy came to Quatsino Sound and when he landed from the steamer Tees, he met Sharp on the beach at Coal Harbour. Duffy looked the old man over and then said, 'Is that you Quantrill, you damned old rascal?'
" 'Come into the house,' said Sharp, and for some hours the two men talked, Sharp stating that he was in reality Quantrill; and he talked at length of the raids in Kansas and elsewhere and eagerly listened to Duffy's tales from the point of view of the cavalry man of the Union army. He was most keenly interested in the story of the cutting up of his band and when the narrator told of how forty had been killed, tears rolled down the old man's cheeks.
"R. E. Montgomery, who is engaged in business at Quatsino and who knew Sharp, or Quantrill, at Fort Worth, Texas, and H. D. Bergh, postmaster at Quatsino, were two others to whom Sharp stated his identity as Quantrill. 'I might as well admit it,' he told both, 'it seems I cannot hide the fact.'
"The story the old man at Quatsino told to the informant of the Colonist was that when his band was cut up, he had been bayoneted in the chest and had a bullet wound through his shoulder. History says Bill Quantrill died of such wounds. Those who talked with John Sharp, who says he is Quantrill, say that he has scars of two such wounds.
" 'After he told me he was Quantrill,' another Quatsino resident said, 'I had a number of talks with him and he told me of many incidents of the raiding in the southern States, although I do not remember all the details.' "
After the above story appeared in the Colonist and was reprinted in the Seattle papers, many people came forward who knew about the old man of Quatsino. Jim Butler, logger, railroader and formerly soldier of fortune, knew him quite well. He told this writer many stories about Sharp.
"Sharp was Quantrill alright, " Butler said, "he knew too much about. Quantrill's outfit to be anyone else. He talked freely about Jesse and Frank James and knew a great deal about the Civil War. Not only that, but he looked exactly as Quantrill had been described to me by men who had known him when he was leading the guerilla outfit. He was a tall, blue-eyed man with a voice that was made to command. Even when I knew him, he must have been seventy-odd then, he was a striking figure of a man. Of course northerners hated his guts because of his guerilla tactics, but you WAS THIS QUANTRILL?

have to realize that he was a captain of the Confederate army and it is reasonable to suppose that his raids were carried out under orders. Had the south won the war, Quantrill would probably have had his statue in front of the Capitol buildings, wherever they were located.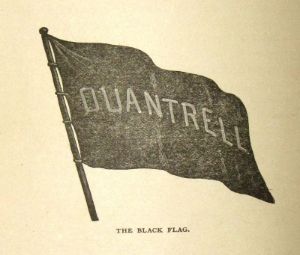 More Than a Watchman
"The only time Sharp talked about Quantrill was when he got tanked up - and he could drink a lot of liquor before he got into that condition. But when he was drinking, it seemed as though he wanted people to know that he was more than a watchman at a deserted coal mine. That was his job, you know, watching over that old coal property near Quatsino.
"One time he showed me the wounds on his body. He was scarred in a dozen places with bullets, knife-wounds and a great bayonet scar on his chest and a scar from a bullet through his shoulder. He was a gambling man too, so he said, and I don't know what else.
"Sharp told me that he was wounded when a northern cavalry outfit trapped him and his band in a barn somewhere in Kentucky," Butler said. "Sharp said that he was so badly wounded the northerners left him for dead and that he managed to creep into a neighboring field and was looked after by a farmer."
So much for the story of old man Sharp as told by the late James Butler. Apparently there were other people who were convinced that Sharp and Quantrill were identical, people in whose breasts burned a bitter hatred and a great longing for vengeance. But we have to fill in the gaps with a certain amount of imagination as to the events which followed the publishing of Quantrill's story in the Victoria Colonist that August in 1907.



| | |
| --- | --- |
| | |
Sequel to a Story

It is not too hard to picture the story of Quantrill reprinted in some Kansas paper - Kansas, the state where Quantrill's raiders had lc filled 150 helpless men, women and children in the town of Lawrence. And it is not difficult to imagine surviving relatives of some massacred family reading the headlines, "QUANTRILL STILL LIVES" and setting out on a northern trek to end a vendetta.
In any event, a few weeks after the story about Quantrill appeared in the Colonist, two men, obviously southerners, arrived at Victoria and registered at the Dominion Hotel. They made several cautious inquiries about how to get to Quatsino Sound and when, two days later, the steamer Tees commenced her voyage up the west coast, these two men were aboard. During the trip they are reported to have evinced an interest in a certain "old man Sharp at Quatsino," and were told by crewmen where Sharp could be found. They discussed no other business, so it can be presumed that their business concerned the man, John Sharp.
When the Tees arrived at her dock in Quatsino, the two men obtained transportation to Coal Harbor. Next day, when the Tees sailed south, the two men were again passengers. Arriving in Victoria these men took passage on a Seattle-bound vessel and so passed out of the picture.
Now just about the time that the S.S. Tees was midstream in Quatsino Sound, bound for Victoria, a young friend of Sharp's decided to pay the old man a visit. This is how he told what he found:

Old Score Settled

"Sharp's cabin door was ajar and I went inside. I heard a groan and looked toward the old man's bunk. When my eyes became accustomed to the darkness of the cabin, I saw old man Sharp lying on his bunk. He was an awful sight. His face and hair and whiskers were matted with blood. I went to him and asked, 'What's happened?' He recognized my voice, for he roused up and said, 'Go and get me some whiskey.'
"There was a heavy iron poker that he used for his fire, beside the bunk and it was covered with blood. 'Who hit you?' I asked. 'Get me some whiskey,' was all he said. I had no way of getting him any whiskey or liquor of any kind, but I knew he needed help badly. I hurried away and got some men to go back to his cabin and see what they could do for him."
"When the men arrived, Sharp was still conscious, but was very angry when they had no whiskey for him. They asked him what had happened but he refused to tell them. They asked if he knew who had attacked him or why he had been beaten, but he remained silent. He died several hours later, with the name of his killer or killers passing on with him, so that there has never been a solution to the murder of old man Sharp.
There were no police on the northwestern shores of Vancouver Island in 1907 and by the time an investigation was launched into the killing, Sharp had been buried for several months. The reason for the murder has never been truly answered. But we can presume that old man Sharp, an obscure watchman at an abandoned coal mine on Quatsino Sound, paid for the deeds committed by Captain William Clark Quantrill, school teacher, gambler, stage coach robber and Confederate guerilla fighter.

By F.W. LINDSAY "The B.C. Outlaws" 1963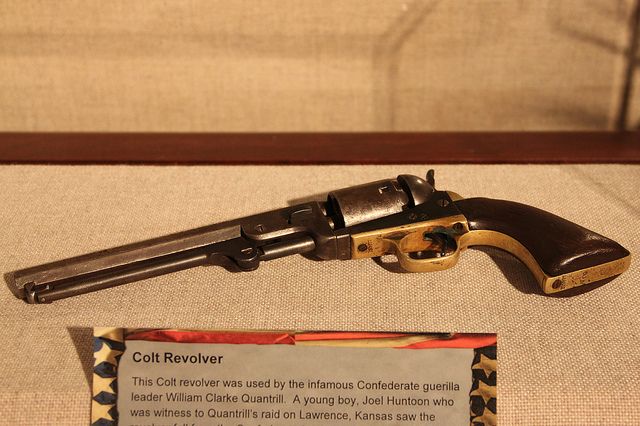 | | |
| --- | --- |
| Home | |